A Tribute to Frankie Valli : Saturday, May 2nd
May 02, 2020 06:00 PM until May 02, 2020 11:00 PM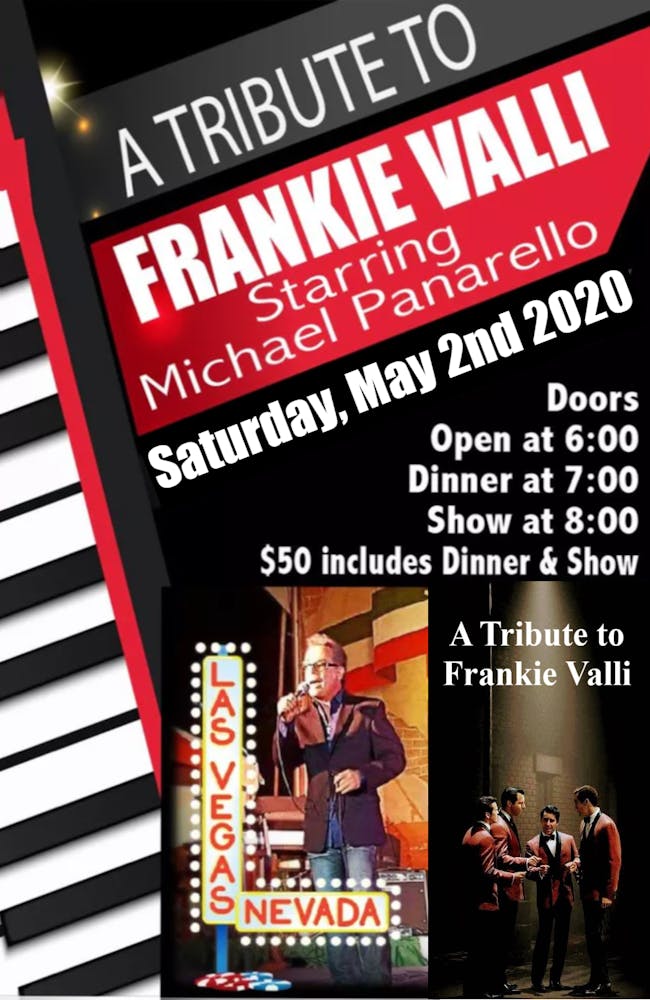 A Tribute to Frankie Valli -
Featuring Michael Panarello
ONE NIGHT ONLY - Saturday, May 2nd!!
Starring Michael Panarello this show celebrates the music & life of Frankie Valli! Panarello, who has performed everywhere from on an aircraft carrier to various venues & restaurants in & around Rhode Island, & as far away as Las Vegas, treats his audience to dozens of Frankie Valli & the Four Seasons all-time biggest hits!
Panarello's prolific performance even includes quite a bit of history about Francesco Stephen Castelluccio – better known as Frankie Valli – who he noted is 84 years young and still performing throughout the country!
Doors Open: 6:00pm
Dinner Served: 7:00pm
Show Starts: 8:00pm
Tickets: $50.00pp
Show & Buffet Dinner:
~ Fresh Bread ~
~ Garden Salad ~
~ Vegetable Medley ~
~ Rice Pilaf ~
~ Chicken Parmigiana ~
~ Steak Tips ~
~ Coffee & Tea ~
~Chocolate Mousse Cake & Strawberry Mousse Cake ~
Get Your Tickets Here!